Level 304 combat, very strong magic/melee attacks! (Antifire/Dragonfire shield recommended)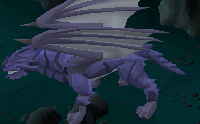 Mithril Dragons are located at the Ancient Cavern. Dungeon Teleports ~> Ancient Cavern ~> Run to the east wall and then run south until you come upon a staircase.
Drops:
Dragon Bones - 100%
Mithril Bar - 100%
Draconic Visage - 0.2564%
Dragon Spear/Full helm - 0.7812%
Other items such as charms and Rune items are common drops.